In my ongoing attempt to collect some basic data for parametric architects to use, I wrote a short outline of basic geometries.
11 CLASSICAL ARCHITECTURAL GEOMETRIES
The type and use of geometry in architecture is a fundamental element of the variation between styles or language of architecture. The type of geometry is often conflated with meaning. One concept is that architectural style-isms like art swing between periods of "romanticism" and "realism". With "romantic" being soft, using decoration and curvature, and "realism" being stripped down and hard edged. Another concept is that the swing is between the metaphysical/godly and the worldly/functional. Any such simplification is just that, a simplification. And this needs to be kept in mind when reading the following.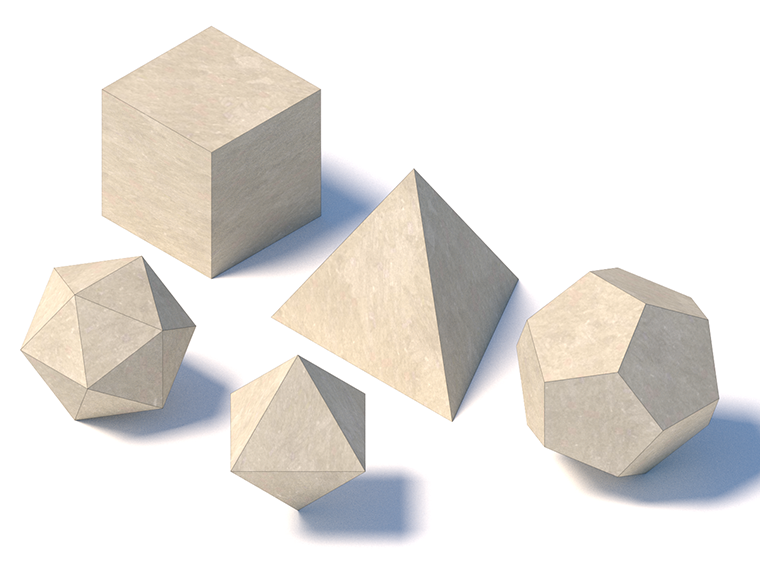 THE 5 PLATONIC SOLIDS:
Named for Plato who in the Timaeus dialogues, hypothesized that the classical elements of earth, water air and fire were made of these regular solids.
Platonic solid is a regular, convex polyhedron. It is constructed by matching side, regular, polygonal faces. With the same number of faces meeting at each corner. The five solids are Cube, Tetrahedron, Dodecahedron, Icosahedron, and Octahedron.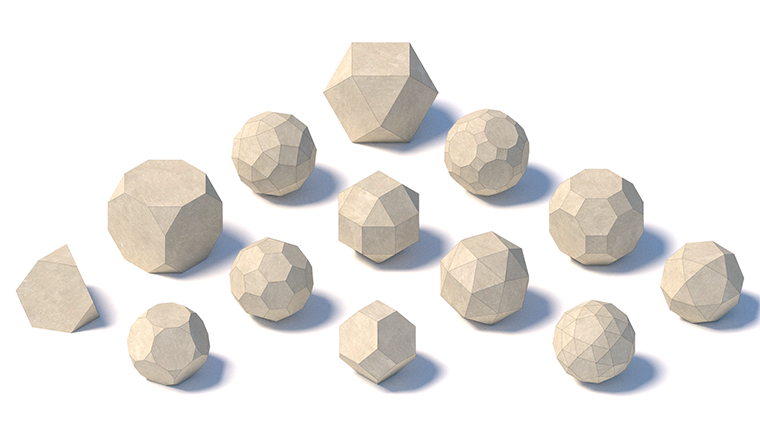 THE 13 ARCHEMEDIAN SOLIDS:
Named after Archemedes who discussed them in a now lost work. Unlike the Platonic solids the Archemedian solids are not identical, but convex uniform polyhedra composed of regular polygons meeting in identical vertices. The 13 solids are:
Truncated Tetrahedron
Truncated Cube
Rhombicosidodecahedron (Small Rhombicosidodecahedron)
Cuboctahedron (Rhombitetratetrahedron)
Truncated Dodecahedron
Truncated Icosahedron
Rhombicuboctahedron (Small Rhombicuboctahedron)
Truncated Icosidodecahedron (Great Rhombicosidodecahedron)
Truncated Octahedron (Truncated Tetratetrahedron)
Snub Cube (Snub Cuboctahedron)
Truncated Cuboctahedron (Great Rhombicuboctahedron)
Snub Dodecahedron (Snub Icosidodecahedron)
Icosidodecahedron
To read further, visit https://www.thorarchitects.com/architecture-geometry/